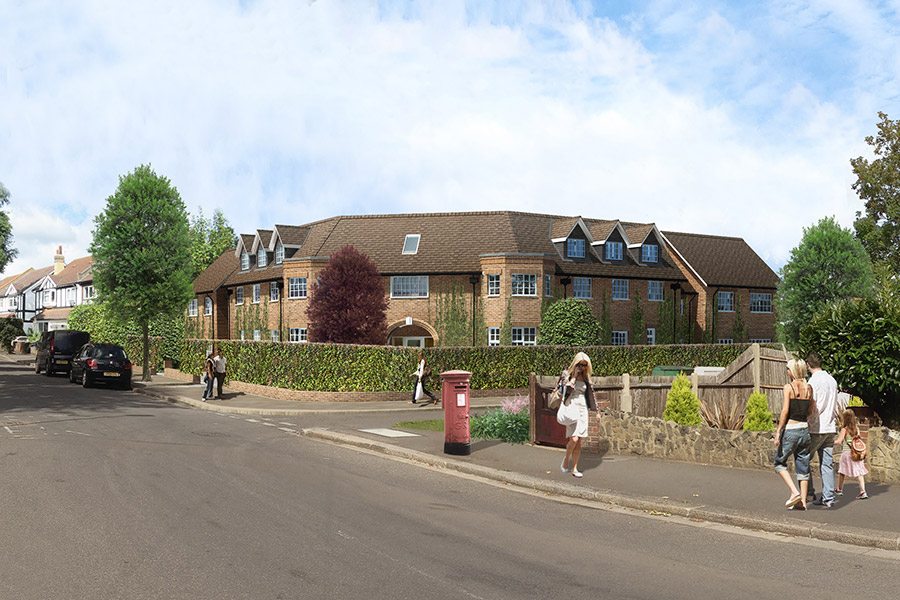 ---
---
Project Ref: 7356
Area: Sutton
Published: 20th March 2018
Conversion to 13 Flats for a developer client
Project Brief
The property was a 1920's building that was purpose built as a children's home. Our client, a property developer, was proposing to transform the now vacated building into valuable housing, creating 13 flats. This would involve a planning application for a change of use, as well as large extensions and the refurbishment of the building.
---
Project Outcome
To maximize the chance of getting planning permission for the project, we engaged in preapplication talks with the council. This allowed us to run our initial designs by them and to identify any issues that we would have to address in the application. Once they had this information, our skilled architects prepared the thorough designs for the project. In these designs, we took care to be mindful of all possible planning issues whilst meeting our client's vision for the project.

We designed flats that would be attractive and amenable to future occupiers, providing them with sizable rooms as well as good parking, lighting, security, access and waste disposal facilities. Our experienced planners then prepared the written application, demonstrating how the designs were in line with local, regional and national planning regulations and convincingly justifying the change of use.

The planning application was successful and the project was granted permission. Finally, we worked with our client to meet Building Regulations Compliance, which is necessary before construction can begin.
Client Feedback
We would like to thank the architects and town planners at Get Planning and Architecture for their skilled handling of our application. We are very pleased that we can now go ahead with the development.
Our client wished to add a three storeys of side & rear extensions...

The client approached Get Planning and Architecture to produce drawings to comply with...

The discharging of conditions on an existing Listed Building Application for a single...

Our client wanted a side extension to significantly increase the size of the...

Our client bought this property at auction and came to Get Planning and...

The initial brief was to obtain planning permission for the demolition of the...

Our client owned a large detached bungalow on Green Belt that was also...

For this project we were approached by a client of which had purchased...

The client approached us with a site which had an existing house in...

Our client had already got planning permission for this development. However, this came...

The creation of an attractive outdoor dining area was at the forefront of...

Our client was a local property management company wishing to convert a disused...

This client was looking to extend their NHS surgery in Hounslow but after...

Our client, a property developer, wanted an elegant and modern building, separate from...

Our client was a secondary school and sixth form. The proposal was to...

Our client had been looking for premises to set up a nursery in...

Our client wished to convert a House in Multiple Occupation into 3 self-contained...

In a bid to develop their business and secure the viability of their...

This interior design company urgently needed a retrospective application on behalf of one...

To provide Listed Building Consent and Building Regulations for the refurbishment of three...